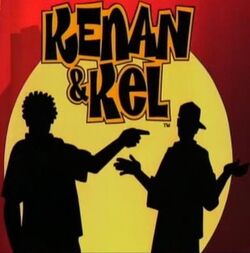 Kenan & Kel spanned 4 seasons and had 1 made-for-TV movie.
Season 1 (1996-1997)
Edit
Season 2 (1997-1998)
Edit
Pair-Rental Guidance (Parental Guidance)
Clowning Around (Clownin' Around)
Get the Kel Outta Here (Get the Hell Outta Here)
Bye, Bye Kenan: Part 1
Bye, Bye Kenan: Part 2
Season 3 (1998-1999)
Edit
Season 4 (1999-2000)
Edit
Two Heads Are Better Than None (TV Movie) (Two Heads Are Better Than One)
Running gags: throughout the series: "Aw, here it goes" ;Kenan asking for various objects that Kel should bring.
Ad blocker interference detected!
Wikia is a free-to-use site that makes money from advertising. We have a modified experience for viewers using ad blockers

Wikia is not accessible if you've made further modifications. Remove the custom ad blocker rule(s) and the page will load as expected.